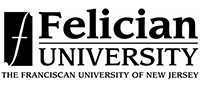 UNIVERSITY MISSION
Felician University is an independent co-educational Catholic/Franciscan University founded and sponsored by the Felician Sisters to educate a diverse population of students within the framework of a liberal arts tradition. Its mission is to provide a full complement of learning experiences, reinforced with strong academic and student development programs designed to bring students to their highest potential and prepare them to meet the challenges of the new century with informed minds and understanding hearts. The enduring purpose of Felician University is to promote a love for learning, a desire for God, self knowledge, service to others, and respect for all creation.
SCHOOL OF ARTS AND SCIENCES MISSION
The School of Arts and Sciences is committed to promoting the University's Franciscan-Felician mission by providing an environment that fosters the intellectual, emotional, and spiritual development of our students. The Liberal Arts curriculum challenges students to explore creative ways of thinking within a broad scope of study that integrates intellectual traditions with essential values. Our diverse programs encourage students to become lifelong learners and compassionate contributors to the well-being of others throughout their lives.
DEPARTMENT OF ART MISSION
The Art Program at Felician University produces artists with the skills, knowledge, and critical sensibility to effectively communicate ideas through individual forms of expression. Offering a variety of courses in Fine Art, Graphic Design, and Photography and New Media, the Department's objective is to emphasize the teaching of technique in concert with the critical study of different historical forms of art production, providing a life-long reference of cultural understanding.

Through a rigorous and dynamic curriculum, graduates of the Art Program will be able to implement a variety of creative skills and techniques, as well as produce a range of forms and styles; critique works of art based on their survey knowledge of major historical examples and schools of thought; recognize trends in contemporary cultural thinking; understand the importance of the arts in society; assess their personal strengths and interests; and create and present work suitable for exhibition and publication. Ultimately, graduates will be able to integrate and synthesize their skills, knowledge, and experience into a powerful career strategy.
---
ART-449-R SENIOR SEMINAR
3 credits, undergraduate, traditional
Fall 2018
5:45-8:15, Martin 301

INSTRUCTOR INFORMATION
Michael J. Nyklewicz, M.A.
Associate Professor
Email: nyklewiczm@felician.edu
201-335-1437

Office Hours

Updated 08/30/18
---
COURSE DESCRIPTION
Senior Seminar completes the process of creating a representative body of work that was begun in Junior Seminar. In this course, students will develop a thesis project, or series of projects, that represents the technical and intellectual summation of their academic experience. After developing their ideas, students will mount a thesis exhibition of their work, with a written and oral defense presented to the University faculty. Regular readings will be assigned and discussed in class, and a museum or gallery field trip will also be included. Prerequisite: ART-301.
COURSE OBJECTIVES
In this course, students will:
develop a thesis body of work from initial concept to final execution that addresses a theme or topic researched by the student(s)
gain a sophisticated understanding of the intellectual, technical, and logistical issues related to developing, installing, and promoting an exhibition
inform their final thesis project with imagery and forms that have been rigorously vetted to best express the students' creative intentions
learn to both communicate and defend their work in written and oral contexts
acquire a foundation knowledge of contemporary cultural theory and its practical application in creative production and cultural discourse.
---
RECOMMENDED TEXT
The Originality of the Avant-Garde and Other Modernist Myths, Rosalind E. Krauss, MIT Press, 1986, about $20.00 on Amazon.com
REQUIRED MATERIALS
Notebook / Sketchbook
Materials will be determined by the needs of your project(s)
---
COURSE CONTENT
Week One (08/30)
Review
Thesis Project, Proposal
Reading: Lady Gaga and the Life of Passion
Assignment #1: Flip book

Week Two (09/06)
Assignment #2: Manifesto draft
Week Three (09/13)
No class - Academic Convocation

Week Four (09/20)
Reading: Formless
Reading: Grids
Reading: What Do Artists' Final Works Say About Their Lives?
Reading: Overlooked No More: Ana Mendieta, a Cuban Artist Who Pushed Boundaries
Assignment #3: Shape
Week Five (09/27)
Reading: The Big Toe

Week Six (10/04)
Reading: In the Name of Picasso
Assignment #4: Chocolate

Club Sandwich is an independent annual French magazine. Each issue focuses on a particular food and its cultural and societal representation in various and eclectic fashions. Articles range from history, sociology and anthropology to economy, politics and art. The magazine is not an encyclopedia but, rather, an anthology of informative content infused with humor. We are interested in studying food outside of the plate. Halfway between a magazine and a book, Club Sandwich shows the multifaceted aspects of its subject and envisions print as a media that needs time to be discovered. With its strong aesthetics, the visuals give rhythm to the publication transforming it into a kind of hybrid that is half journalism, half contemporary art.

Club Sandwich is : pop and colorful, fun and serious, silly and academic. We pride ourselves in having well-researched content with strong critical angles and champion a bold esthetics featuring both emerging and internationally known artists.

For the third issue of Club Sandwich, we are seeking bold and contemporary visual contributions featuring CHOCOLATE !!This theme is to be understood quite literally and can be developed in any and every possible way, as long as some chocolate is somehow clearly shown. All mediums are welcome: photography, drawing, collage, screenshots, visual poetry, experimentations.

Please send your work to: submissions@clubsandwich-magazine.com before November 4th, 2018.
Files should be sent in CMJN, 300 dpi, and named as such: "NAME_FIRSTNAME_TITLE"

W. www.clubsandwich-magazine.com
F. facebook.com/clubsandwichmagazine
I. instagram.com/clubsandwichmagazine
E. contact@clubsandwich-magazine.com

Week Seven (10/11)
Assignment #5: Video/Sound

Week Eight (10/18)
Assignment #6: Performance
Week Nine (10/25)
Midterm: Thesis Project Review
Reading: Rotten Sun

Week Ten (11/01)
Creating an Online Presence
Reading: The Photographic Conditions of Surrealism
Week Eleven (11/08)
Open Studio

Week Twelve (11/15)
Installation Prep

Week Thirteen (11/22)
Thanksgiving - no class

Week Fourteen (11/29)
Thesis Project, Installation
Manifesto, Final Draft (should address the responsibilities of being an artist, as well as the importance of art in your life and the lives of others).
Week Fifteen (12/06)
Opening Reception and Presentation

Week Sixteen (12/13)
Deinstall
Next Semester & Life after Felician

Additional Readings

Our (Bare)Shelves, Our Selves
U2, Preaching Defiance, Heads Back to Paris
Marina Abramovic and Igor Levit's Variation on 'Goldberg' Will Make the Audience Earn Its Bach
Three Artists Who Think Outside the Box

---
GRADING RUBRICS
Thesis Project
12.5 pts.
9 pts.
5 pt.
Skills & Techniques

Artwork exhibits a mastery of skills and techniques appropriate to the medium.
Artwork exhibits average skills and techniques appropriate to medium.
Artwork exhibits basic skills and techniques appropriate to the medium.
Composition & Presentation

Artwork is thoughtfully and creatively composed; presentation adds to its effectiveness.
Artwork is thoughtfully composed, but lacks creativity; presentation somewhat adds to its effectiveness.

Artwork

is carelessly composed; presentation is indiscriminate.

Originality

Interpretation of the project shows independent thought and creative ideas.
Intepretation of the project shows some creativity, but lacks in realization of ideas.
Interpretation of the project is obvious.
Communication
Artwork effectively communicates ideas in relation to the artist's intent.
Artwork communicates ideas in relation to the artist's intent.
Artwork somewhat communicates ideas in relation to the artist's intent.
Manifesto

5 pts.

3 pts.

1 pt.

Content

Ideas are clearly defined with cogent arguments and well-chosen supporting material.
Ideas are satisfactorily defined with adequate arguments and supporting materials.

Ideas are not clearly defined, lacking convincing arguments and appropriate supporting materials.
Structure

Paper is well organized, progressing from thesis to conclusion in a logical and understandable manner.

Paper progresses from thesis to conclusion

, but is poorly organized.

Paper is unorganzied, lacking a clearly defined thesis and conclusion

.
Originality

Interpretation of the research topic shows independent thought and creative ideas.
Intepretation of the research project shows some creativity, but lacks in realization of ideas.
Interpretation of the research topic does not go beyond the obvious.
Citations
Accurate use of footnotes and bibliography, as verified by Turnitin.
Somewhat accurate use of footnotes and bibliography

, as verified by Turnitin

.
Improper use of footnotes and bibliography

, as verified by Turnitin

.
GRADING POLICIES
Grades will be based on the criteria found in the GRADING RUBRICS.
Assignments:

20%

Manifesto:

20%
Thesis Project: 60%
Total percentage is 100, which is translated into a letter grade using the standards published in the University Catalog (see below); there will be no grading curve.
Felician University operates on the 4.00 grading system and determines the academic standing of students according to the following scale:
| | | | |
| --- | --- | --- | --- |
| Grade | Description | Numerical Equivalent | Quality Points |
| A | Outstanding | 95-100 | 4.000 |
| A- | Excellent | 90-94 | 3.670 |
| B+ | Very Good | 87-89 | 3.333 |
| B | Good | 83-86 | 3.000 |
| B- | Above Average | 80-82 | 2.670 |
| C+ | Average | 77-79 | 2.333 |
| C | Acceptable | 70-76 | 2.000 |
| D | Poor | 65-69 | 1.000 |
| F | Failure | 64 or below | 0.000 |
| FA | Failure due to non-attendance | 64 or below | 0.000 |
---
COURSE POLICIES
All communication of course-related matters will be done only via Felician University email addresses.
Please expect to spend time outside of class working on your projects.
Students are expected to attend all classes. Should you need to miss class for an emergency, please contact me by email, preferably prior to class if possible, but within 36 hours after class. In the event of a missed exam, please also provide documentation prior to taking the make-up exam. Two (2) unexcused absences will lower your final grade by three (3) points; each additional unexcused absence will lower your final grade by three (3) points. After four (4) unexcused/excused absences, you may be asked to withdraw from the course.
Please see the Student Handbook for the University's policies on plagiarism and acceptable conduct..
All written work will be checked through Turnitin, with revisions allowed based on the Similarity Report.
Please refrain from personal use of computers and electronic devices during class.
---
NOTE
University Wide Policies can be found in the University Catalog.
By enrolling in this course, you agree to abide by the Felician University Honor Code, which states you pledge your honor that you will neither give nor receive inappropriate aid on all exams, quizzes, and similar work assigned during the semester.
Extenuating circumstances may necessitate a change in the syllabus or schedule. Every effort will be made to provide adequate notice of such changes.