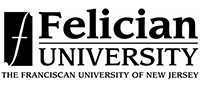 COLLEGE MISSION
Felician College is an independent co-educational Catholic/Franciscan College founded and sponsored by the Felician Sisters to educate a diverse population of students within the framework of a liberal arts tradition. Its mission is to provide a full complement of learning experiences, reinforced with strong academic and student development programs designed to bring students to their highest potential and prepare them to meet the challenges of the new century with informed minds and understanding hearts. The enduring purpose of Felician College is to promote a love for learning, a desire for God, self-knowledge, service to others, and respect for all creation.
DIVISION OF ARTS AND SCIENCES
The mission of the Division of Arts and Sciences is to implement and manifest the Mission of Felician College in the Programs of the Division, the General Education Program, the Developmental Education Program and the Core by providing the highest quality of instruction at both the undergraduate and graduate level, encouraging students to develop to their fullest potential, to gain skills for life-long learning, and to produce graduates well-equipped to contribute to society. The Division achieves the stated mission by using processes of continual improvement, based upon assessment of student learning at all levels, as well as the assessment of the administrative processes and mechanisms.
DEPARTMENT OF ART AND MUSIC
The Art Program at Felician College produces artists with the skills, knowledge, and critical sensibility to effectively communicate ideas through individual forms of expression. Offering a variety of courses in Fine Art, Graphic Design, and Photography and New Media, the Department's objective is to emphasize the teaching of technique in concert with the critical study of different historical forms of art production, providing a life-long reference of cultural understanding.
Through a rigorous and dynamic curriculum, graduates of the Art Program will be able to implement a variety of creative skills and techniques, as well as produce a range of forms and styles; critique works of art based on their survey knowledge of major historical examples and schools of thought; recognize trends in contemporary cultural thinking; understand the importance of the arts in society; assess their personal strengths and interests; and create and present work suitable for exhibition and publication. Ultimately, graduates will be able to integrate and synthesize their skills, knowledge, and experience into a powerful career strategy.
---
ART-366-A SURREALISM
3 credits, undergraduate, traditional
Fall 2013
W 2:35-5:10, Obal Hall 304



INSTRUCTOR INFORMATION
Michael J. Nyklewicz, M.A.
Assistant Professor
Email: nyklewiczm@felician.edu
201-559-6107


Office Hours
TBA


Resources



Updated: 03/22/13


---
COURSE DESCRIPTION
Surrealism was one of the most influential art movements of the last century, with practitioners working in all mediums from painting and sculpture to photography and film. Through a close study of the Surrealists and their work, this course will analyze the development of the movement and consider the evidence of its ongoing influence in today's society. Emphasis will be placed on research of source material and study of art works; as such, a museum field trip will be planned. Prerequisites: none.
COURSE OBJECTIVES
In this course, students will:
Understand the personal, social, and political significance of Surrealism as an art movement
Recognize trends in contemporary cultural thinking influenced by Surrealism
Critique established works of art based on research and observation
Create presentations suitable for college-level discussions
Assess the strengths and weaknesses of their roles as researchers and critics.
REQUIRED TEXTS
Manifestoes of Surrealism; Andre Breton; University of Michigan Press, 1969 (approx. $20.00)
Visions Of Excess: Selected Writings, 1927-1939; Georges Bataille (author), Allan Stoeki (editor); University of Minnesota Press, 1985 (approx. $18.00)
On Dreams; Sigmund Freud; W.W. Norton & Company, 1990 (approx. $11.00)
---
COURSE CONTENT
Week One ()
That is so ...

Introduction
Discussion: How to define surreal
In-Class Response Paper
Reading: On Dreams

Week Two ()
Foundations of Surrealism: Symbolism and de Chirico

Discussion: Gustave Moreau, Odilon Redon, Arnold Böcklin, Giorgio de Chirico
In-Class Response Paper
Reading: On Dreams

Week Three ()
Foundations of Surrealism: Dada

Discussion: Hugo Ball, Tristan Tzara, Hans Arp, Marcel Duchamp, Francis Picabia, Man Ray
In-Class Response Paper
Reading: Manifesto of Surrealism

Week Four ()
Foundations of Surrealism: Dada

Discussion: John Heartfield, Hannah Höch, Richard Huelsenbeck, Raoul Hausmann, George Grosz
In-Class Response Paper
Reading: Manifesto of Surrealism

Week Five ()
Andre Breton, the Great Sleep, Sigmund Freud

In-Class Response Paper
Reading: Manifesto of Surrealism

Week Six ()
Manifesto fo Surrealism

Discussion: Manifesto of Surrealism
In-Class Response Paper
Reading: Formless

Week Seven ()
Surrealist Painters

Discussion: Max Ernst, Salvador Dali, Rene Magritte, Man Ray
In-Class Response Paper
Reading: Eye

Week Eight ()
Midterm

Research Paper Proposal due

Week Nine ()
Surrealist Photographers

Discussion: Eugene Atget, Raoul Ubac, Eli Lotar, Dora Maar, Claude Cahun, Man Ray
In-Class Response Paper
Reading: Mouth

Week Ten ()
Field Trip

Week Eleven ()
Surrealist Sculptors

Discussion: Meret Oppenheim, Alberto Giacometti, Hans Bellmer, Man Ray
In-Class Response Paper
Reading: Base Materialsim and Gnosticism

Week Twelve ()
Georges Bataille

Discussion: Antonin Artaud, Robert Desnos, Jacques-André Boiffard
In-Class Response Paper
Reading: The Big Toe

Week Thirteen ()
Individual Reviews

Week Fourteen ()
That is so ... surreal

Discussion: Frederick Sommer, David Lynch, Michiko Kon, Gregory Crewdson, Helen Chadwick
In-Class Response Paper

Week Fifteen ()
Final
---
GRADING RUBRICS
RESEARCH PAPER

8 pts.

6 pts.

4 pts.

Content

Ideas are clearly defined with cogent arguments and well-chosen supporting material.
Ideas are satisfactorily defined with adequate arguments and supporting materials.

Ideas are not clearly defined, lacking convincing arguments and appropriate supporting materials.
Structure

Paper is well organized, progressing from thesis to conclusion in a logical and understandable manner.

Paper progresses from thesis to conclusion

, but is poorly organized.

Paper is unorganzied, lacking a clearly defined thesis and conclusion

.
Originality

Interpretation of the research topic shows independent thought and creative ideas.
Intepretation of the research project shows some creativity, but lacks in realization of ideas.
Interpretation of the research topic does not go beyond the obvious.
Citations
Accurate use of footnotes and bibliography, as verified by Turnitin.
Somewhat accurate use of footnotes and bibliography

, as verified by Turnitin

.
Improper use of footnotes and bibliography

, as verified by Turnitin

.

Spelling and grammar

No mistakes.
No points given otherwise.
No points given otherwise.
GRADING POLICIES
In-Class Response Papers:

33%

Midterm:

20%

Final Research Paper Proposal:

7%

Final Research Paper:

40%

Total percentage is 100, which is translated into a letter grade using the standards published in the Felician College Catalog. There will be no grading "curve."
Felician College operates on the 4.00 grading system and determines the academic standing of students according to the following scale:
| | | | |
| --- | --- | --- | --- |
| Grade | Description | Numerical Equivalent | Quality Points |
| A | Outstanding | 100-95 | 4.000 |
| A- | Excellent | 94-90 | 3.670 |
| B+ | Very Good | 89-87 | 3.333 |
| B | Good | 86-83 | 3.000 |
| B- | Above Average | 82-80 | 2.670 |
| C+ | Average | 79-77 | 2.333 |
| C | Acceptable | 76-70 | 2.000 |
| D | Poor | 69-65 | 1.000 |
| F | Failure | 64 or below | 0.000 |
| FA | Failure due to non-attendance | 64 or below | 0.000 |
---
COURSE POLICIES

All communication of course-related matters will be done only via Felician College email addresses.
There are no excused absences for this course; students are expected to attend all class meetings. Two (2) missed classes will lower your final grade by ten (10) points; each additional class will lower your final grade by five (5) points. Habitual late arrivals/early departures (three or more) will also lower your final grade by five (5) points.
Late assignments will not be accepted and make-up exams will not be given except under dire circumstances (appropriate documentation must be provided).
Please see the Student Handbook for the College's policies on plagiarism and acceptable conduct.
All written work must be submitted through Turnitin; revisions will be allowed based on the Similarity Report.
Use of personal electronic devices and/or improper use of computers during class is not allowed; each instance will lower your final grade by one (1) point.


---
NOTE
College Wide Policies can be found in the College Catalogue.
By enrolling in this course, you agree to abide by the Felician College Honor Code, which states you pledge your honor that you will neither give nor receive inappropriate aid on all exams, quizzes, and similar work assigned during the semester.
Extenuating circumstances may necessitate a change in the syllabus or schedule. Every effort will be made to provide adequate notice of such changes.