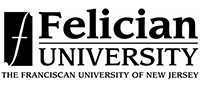 COLLEGE MISSION
Felician College is an independent co-educational Catholic/Franciscan College founded and sponsored by the Felician Sisters to educate a diverse population of students within the framework of a liberal arts tradition. Its mission is to provide a full complement of learning experiences, reinforced with strong academic and student development programs designed to bring students to their highest potential and prepare them to meet the challenges of the new century with informed minds and understanding hearts. The enduring purpose of Felician College is to promote a love for learning, a desire for God, self-knowledge, service to others, and respect for all creation.
DIVISION OF ARTS AND SCIENCES
The mission of the Division of Arts and Sciences is to implement and manifest the Mission of Felician College in the Programs of the Division, the General Education Program, the Developmental Education Program and the Core by providing the highest quality of instruction at both the undergraduate and graduate level, encouraging students to develop to their fullest potential, to gain skills for life-long learning, and to produce graduates well-equipped to contribute to society. The Division achieves the stated mission by using processes of continual improvement, based upon assessment of student learning at all levels, as well as the assessment of the administrative processes and mechanisms.
DEPARTMENT OF ART AND MUSIC
The Art Program at Felician College produces artists with the skills, knowledge, and critical sensibility to effectively communicate ideas through individual forms of expression. Offering a variety of courses in Fine Art, Graphic Design, and Photography and New Media, the Department's objective is to emphasize the teaching of technique in concert with the critical study of different historical forms of art production, providing a life-long reference of cultural understanding.
Through a rigorous and dynamic curriculum, graduates of the Art Program will be able to implement a variety of creative skills and techniques, as well as produce a range of forms and styles; critique works of art based on their survey knowledge of major historical examples and schools of thought; recognize trends in contemporary cultural thinking; understand the importance of the arts in society; assess their personal strengths and interests; and create and present work suitable for exhibition and publication. Ultimately, graduates will be able to integrate and synthesize their skills, knowledge, and experience into a powerful career strategy.
---
ART-361-A WOMEN IN ART
3 credits, undergraduate, traditional
Fall 2011
W 2:35-5:05, Obal Hall 304

INSTRUCTOR INFORMATION
Michael J. Nyklewicz, M.A.
Assistant Professor
Email: nyklewiczm@felician.edu
201-559-6107

Office Hours - Obal Hall 306
M 3:00-5:00
T 1:30-3:30

Updated 11/30/11

---
COURSE DESCRIPTION
This course is an exploration of women both as the subjects and the creators of art.  It is organized thematically and involves a survey of key women artists - mainly in the 20th century - and their artistic contributions, as well as an examination and analysis of feminist art practices and issues in the history of art.  A field trip to the Brooklyn Museum of Art to specifically view Judy Chicago's Dinner Party is required. No prerequisites.
COURSE OBJECTIVES
In this course, students will:
remember the chronology of women in art and its application through history

understand the importance of women in art and life around us
apply this new knowledge to your surroundings in appreciation for the richly visual in their midst

have the ability to analyze the style and period of women in art that they encounter in museums, in reading, and in the world
be able to evaluate the women in art using the skills acquired in this class when viewed critically
understand process of creating women in art through the eyes of the individual artists
Additionally, by researching the work of established artists, students will be able to compare/contrast working methods and ideas with their own.
---
REQUIRED TEXTS
Patti Smith, Just Kids, Ecco, 2010 (approx. $6-9, available at Amazon.com)
Whitney Chadwick, Women, Art, and Society, Fourth Edition, Thames and Hudson, 2007 (available in the Bookstore)

---
COURSE CONTENT
INTRODUCTION
Week One (09/14)

How do you define women in art?

Dream of Life
GODDESS
Week Two (09/21)
SAINT
Week Three (09/28)
SINNER
Week Four (10/05)

Reading

:

Just Kids

, Foreward-p.31
MUSE
Week Five (10/12)

Alice Liddell & Lewis Carroll

Georgia O'Keeffe & Alfred Steiglitz

Lee Miller & Man Ray

Edie Sedgwick & Andy Warhol

Patti Smith & Robert Mapplethorpe

La Belle Noiseuse

Reading

:

Just Kids

, pp.31-60

CLASS CANCELED
Week Six (10/19)

Assignment: Up the Career Ladder, Lipstick In Hand
Please read the above article and write a 250-word response that relates it to previous class discussions.
Assignment: Georgia O'Keeffe Museum
Please visit the above website, pick one of the works under Art/Exhibitions > Permanent Collection, and write about why you chose that particular piece; please do not do any research outside of the O'Keeffe Museum website.
Article: Requiem Lass
Assignment: Final Project Proposal due 11/02

Reading

:

Just Kids

, pp.61-88
DIVA
Week Seven (10/26)

Natalie Dessay
Gaga
Karen Finley

Reading

:

Just Kids

, pp.88-116
MIDTERM
Week Eight (11/02)

Final Project Proposal / Outline due

Reading

:

Just Kids

, pp.189-232
PHOTOGRAPHER
Week Nine (11/09)
CRITIC
Week Ten (11/16)

Rosiland Krauss

Lucy Lippard




Assignment

Read Powers of Horror by Julia Kristeva (pp.207-210)
Find works by three women artists that you think illustrate Kristeva's ideas
Write down your ideas and be prepared to discuss in class

Assignment: write the introduction to your paper
THANKSGIVING BREAK
Week Eleven (11/23)
AESTHETE
Week Twelve (11/30)

Claude Cahun

Hannah Wilke

Cindy Sherman

Orlan
ACTIVIST
Week Thirteen (12/07)
FIELD TRIP
Week Fourteen (12/14)
FINAL
Week Fifteen (12/21)
Final Research Project Due
---
GRADING RUBRICS
RESEARCH PAPER

40 pts.

30 pts.

20 pts.

Content

Ideas are clearly defined with cogent arguments and well-chosen supporting material.
Ideas are satisfactorily defined with adequate arguments and supporting materials.

Ideas are not clearly defined, lacking convincing arguments and appropriate supporting materials.
Structure

Paper is well organized, progressing from thesis to conclusion in a logical and understandable manner.

Paper progresses from thesis to conclusion

, but is poorly organized.

Paper is unorganzied, lacking a clearly defined thesis and conclusion

.
Originality

Interpretation of the research topic shows independent thought and creative ideas.
Intepretation of the research project shows some creativity, but lacks in realization of ideas.
Interpretation of the research topic does not go beyond the obvious.
Citations
Accurate use of footnotes and bibliography, as verified by Turnitin.
Somewhat accurate use of footnotes and bibliography

, as verified by Turnitin

.
Improper use of footnotes and bibliography

, as verified by Turnitin

.

Spelling and grammar

No mistakes.
No points given otherwise.
No points given otherwise.
GRADING POLICIES
Grades will be based on the criteria found in GRADING RUBRICS (see above).
Total percentage is 100, which is translated into a letter grade using the standards published in the College Catalog (see below); there will be no grading curve.
Felician College operates on the 4.00 grading system and determines the academic standing of students according to the following scale:
| | | | |
| --- | --- | --- | --- |
| Grade | Description | Numerical Equivalent | Quality Points |
| A | Outstanding | 100-95 | 4.000 |
| A- | Excellent | 94-90 | 3.670 |
| B+ | Very Good | 89-87 | 3.333 |
| B | Good | 86-83 | 3.000 |
| B- | Above Average | 82-80 | 2.670 |
| C+ | Average | 79-77 | 2.333 |
| C | Acceptable | 76-70 | 2.000 |
| D | Poor | 69-65 | 1.000 |
| F | Failure | 64 or below | 0.000 |
| FA | Failure due to non-attendance | 64 or below | 0.000 |
---
COURSE POLICIES
All communication of course-related matters will be done only via Felician College email addresses.
There are no excused absences for this course; students are expected to attend all class meetings. Two (2) missed classes will lower your final grade by two (2) points; each additional class will lower your final grade by one (1) point. Habitual late arrivals/early departures (three or more) will also lower your final grade by one (1) point.
Late assignments will not be accepted and make-up exams will not be given except under dire circumstances (appropriate documentation must be provided).
Please see the Student Handbook for the College's policies on plagiarism and acceptable conduct.
All written work must be submitted through Turnitin; revisions will be allowed based on the Similarity Report.
Use of personal electronic devices and/or improper use of computers during class is not allowed; each instance will lower your final grade by one-half (1/2) point.

---
NOTE
College Wide Policies can be found in the College Catalogue.
By enrolling in this course, you agree to abide by the Felician College Honor Code, which states you pledge your honor that you will neither give nor receive inappropriate aid on all exams, quizzes, and similar work assigned during the semester.
Extenuating circumstances may necessitate a change in the syllabus or schedule. Every effort will be made to provide adequate notice of such changes.