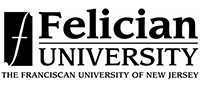 FELICIAN UNIVERSITY MISSION
Felician University is an independent co-educational Catholic/Franciscan University founded and sponsored by the Felician Sisters to educate a diverse population of students within the framework of a liberal arts tradition. Its mission is to provide a full complement of learning experiences, reinforced with strong academic and student development programs designed to bring students to their highest potential and prepare them to meet the challenges of the new century with informed minds and understanding hearts. The enduring purpose of Felician University is to promote a love for learning, a desire for God, self knowledge, service to others, and respect for all creation.
SCHOOL OF ARTS AND SCIENCES MISSION
The School of Arts and Sciences is committed to promoting the University's Franciscan-Felician mission by providing an environment that fosters the intellectual, emotional, and spiritual development of our students. The Liberal Arts curriculum challenges students to explore creative ways of thinking within a broad scope of study that integrates intellectual traditions with essential values. Our diverse programs encourage students to become lifelong learners and compassionate contributors to the well-being of others throughout their lives.
DEPARTMENT OF ART MISSION
The Art Program at Felician College produces artists with the skills, knowledge, and critical sensibility to effectively communicate ideas through individual forms of expression. Offering a variety of courses in Fine Art, Graphic Design, and Photography and New Media, the Department's objective is to emphasize the teaching of technique in concert with the critical study of different historical forms of art production, providing a life-long reference of cultural understanding.

Through a rigorous and dynamic curriculum, graduates of the Art Program will be able to implement a variety of creative skills and techniques, as well as produce a range of forms and styles; critique works of art based on their survey knowledge of major historical examples and schools of thought; recognize trends in contemporary cultural thinking; understand the importance of the arts in society; assess their personal strengths and interests; and create and present work suitable for exhibition and publication. Ultimately, graduates will be able to integrate and synthesize their skills, knowledge, and experience into a powerful career strategy.
---
ART-301-R JUNIOR SEMINAR
3 credits, undergraduate, traditional
Spring 2018
TH 5:45-8:15, Martin 302


INSTRUCTOR INFORMATION
Michael J. Nyklewicz, M.A.
Associate Professor
Email: nyklewiczm@felician.edu
201-335-1437

Office Hours





Resources

Updated 01/18/18
"I believe that man will not merely endure: he will prevail. He is immortal, not because he alone among creatures has an inexhaustible voice, but because he has a soul, a spirit capable of compassion and sacrifice and endurance. The poet's, the writer's, duty is to write about these things. It is his privilege to help man endure by lifting his heart, by reminding him of the courage and honor and hope and pride and compassion and pity and sacrifice which have been the glory of his past. The poet's voice need not merely be the record of man, it can be one of the props, the pillars to help him endure and prevail."
---
COURSE DESCRIPTION
Through weekly discussions, readings, and presentations, this class provides students with the critical framework necessary for creating and presenting a meaningful, original, and professional body of work. This essential course, together with ART- 449 Senior Seminar, will lead the students to pull together skills developed in previous courses in order to define a focused direction. An exhibition will be organized to present the work created during the semester.
COURSE OBJECTIVES
In this course, students will:
create an original and professional body of work
learn to independently envisage a complex idea and translate that idea into an artistic form
understand how to spend a sustained period of time working on a single project
recognize the potential for creating new art work inspired by a variety of source material
conduct close readings of art theory.
Additionally, by viewing and reading the work of established artists and theoreticians, you will be able to interpret any art form on both a personal level and from within established criticism.
---
RECOMMENDED TEXT
101 Things to Learn in Art School, John Wiley & Sons, 2002 (approx. $50.00, available in the Bookstore).
REQUIRED MATERIALS
Sketchbook / Notebook / Journal
Pen / Pencil
Source materials
Materials of your choice
---
COURSE CONTENT
Week One (01/18)
Introduction

Week Two (01/25)
#1 - Art can be anything.

Introduction
Materials presentation
Week Three (02/01)
#5 - A drawing (or a painting, photograph, and so on) is first and foremost an expression of its medium.

Materials presentation

Project and statement

#1
Week Four (02/08)
#6 - Composition is the foundation of image making.
Week Five (02/15)
#8 - Art is a continuing dialogue that stretches back through thousands of years.

Critique
Elements of design and composition

Week Six (02/22)
#10 - Art is not self-expression.
Week Seven (03/01)
#4 - Art is the product of process.

Critique
Project and statement #4

Week Eight (03/08)
Spring Break - no class

Week Nine (03/15)
#30 - For every hour of making, spend an hour of looking and thinking.
Week Ten (03/22)
Midterm Critique
#14 - All images are abstractions.

Week Eleven (03/29)
Easter Break - no class
Week Twelve (04/05)
#20 - Clear sight makes clear art.
Week Thirteen (04/12)
#21 - Experience of most things is mediated.

Week Fourteen (04/19)
#24 - All art is political.

Final project and statement

Week Fifteen (04/26)
#38 - Complexity derives from the presence of contradiction.
Week Sixteen (05/03)
#28 - An idea is only as good as its execution.
Week Seventeen (05/10)
#11 - All art is quite useless.
---

GRADING RUBRICS
Project - Semester / Final
15 pts.
10 pts.
5 pts.
Skills & Techniques

Artwork exhibits a mastery of skills and techniques appropriate to the medium.
Artwork exhibits average skills and techniques appropriate to medium.
Artwork exhibits basic skills and techniques appropriate to the medium.
Composition & Presentation

Artwork is thoughtfully and creatively composed; presentation adds to its effectiveness.
Artwork is thoughtfully composed, but lacks creativity; presentation somewhat adds to its effectiveness.

Artwork

is carelessly composed; presentation is indiscriminate.

Originality

Interpretation of the project shows independent thought and creative ideas.
Intepretation of the project shows some creativity, but lacks in realization of ideas.
Interpretation of the project is obvious.
Communication
Artwork effectively communicates ideas in relation to the artist's intent.
Artwork communicates ideas in relation to the artist's intent.
Artwork somewhat communicates ideas in relation to the artist's intent.
Statement - Semester / Final
2.5 pts.
2 pts.
1.5 pts.
Content

Ideas are clearly defined with cogent arguments and well-chosen supporting material.
Ideas are satisfactorily defined with adequate arguments and supporting materials.

Ideas are not clearly defined, lacking convincing arguments and appropriate supporting materials.
Structure

Paper is well organized, progressing from thesis to conclusion in a logical and understandable manner.

Paper progresses from thesis to conclusion

, but is poorly organized.

Paper is unorganzied, lacking a clearly defined thesis and conclusion

.
Originality

Interpretation of the research topic shows independent thought and creative ideas.
Intepretation of the research project shows some creativity, but lacks in realization of ideas.
Interpretation of the research topic does not go beyond the obvious.
Citations
Accurate use of footnotes and bibliography, as verified by Turnitin.
Somewhat accurate use of footnotes and bibliography

, as verified by Turnitin

.
Improper use of footnotes and bibliography

, as verified by Turnitin

.
GRADING POLICIES
Grades will be based on the criteria found in GRADING RUBRICS (see above).
Project:

60%


Statement

: 10%
Attendance: 30%
Total percentage is 100, which is translated into a letter grade using the standards published in the College Catalog (see below); there will be no grading curve.
Felician College operates on the 4.00 grading system and determines the academic standing of students according to the following scale:
| | | | |
| --- | --- | --- | --- |
| Grade | Description | Numerical Equivalent | Quality Points |
| A | Outstanding | 100-95 | 4.000 |
| A- | Excellent | 94-90 | 3.670 |
| B+ | Very Good | 89-87 | 3.333 |
| B | Good | 86-83 | 3.000 |
| B- | Above Average | 82-80 | 2.670 |
| C+ | Average | 79-77 | 2.333 |
| C | Acceptable | 76-70 | 2.000 |
| D | Poor | 69-65 | 1.000 |
| F | Failure | 64 or below | 0.000 |
| FA | Failure due to non-attendance | 64 or below | 0.000 |
---
COURSE POLICIES
All communication of course-related matters will be done only via Felician College email addresses.
There are no excused absences for this course; students are expected to attend all class meetings. Two (2) missed classes will lower your final grade by five (5) points; each additional class will lower your final grade by five (5) points. Habitual late arrivals/early departures (three or more) will also lower your final grade by five (5) points.
Late assignments will not be accepted and make-up exams will not be given except under dire circumstances (appropriate documentation must be provided).
Please see the Student Handbook for the College's policies on plagiarism and acceptable conduct.
All written work must be submitted through Turnitin; revisions will be allowed based on the Similarity Report.
Use of personal electronic devices and/or improper use of computers during class is not allowed; each instance will lower your final grade by one (1) point.

---
NOTE
College Wide Policies can be found in the College Catalogue.
By enrolling in this course, you agree to abide by the Felician College Honor Code, which states you pledge your honor that you will neither give nor receive inappropriate aid on all exams, quizzes, and similar work assigned during the semester.
Extenuating circumstances may necessitate a change in the syllabus or schedule. Every effort will be made to provide adequate notice of such changes.