ABOUT THE SCREEN TESTS
In August 1962, Andy Warhol (American, 1928–1987) began making silkscreen paintings of popular icons, including a series of images of Marilyn Monroe that he began a month after her death. He went on to experiment in portrait making with public photo booth machines, which automatically take four exposures several seconds apart and print them in a strip, like a sequence of film frames.
Combining the seriality of these silkscreen and photo booth portraits with the ephemeral quality of the filmed image, between 1964 and 1966 Warhol shot approximately 500 rolls of film: several-minute silent portraits of acquaintances, friends, and celebrities, including many of the artists musicians, poets, actors, models, playwrights, curators, collectors, critics, and gallerists who composed New York City's avant-garde scene. Some subjects were invited to the artist's East 47th Street studio, known as The Factory or The Silver Factory, to sit for their portraits; others were captured spontaneously. At times Warhol left his subjects alone with the camera, creating a heightened sense of vulnerability that is perceptible in the films. His first subjects, seated before a sterile backdrop, were asked not to move or speak (later portraits were shot under more flexible conditions). These films, known as "stillies" around the Factory, were also referred to by Warhol as Living Portrait Boxes, and, later, as Screen Tests.
Warhol shot the portraits at the standard speed for sound film (24 frames per second), but specified that they should be projected at a 16 frames per second, the conventional projection speed for silent films in the early period of cinema. The result is an unusually slow fluidity of pace, a rhythm gently at odds with the large-scale close-ups, which are rendered almost abstract by stark contrasts of light and shadow. The images, still yet moving, play in a continuous loop, bearing a timeless presence.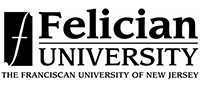 UNIVERSITY MISSION
Felician University is an independent co-educational Catholic/Franciscan University founded and sponsored by the Felician Sisters to educate a diverse population of students within the framework of a liberal arts tradition. Its mission is to provide a full complement of learning experiences, reinforced with strong academic and student development programs designed to bring students to their highest potential and prepare them to meet the challenges of the new century with informed minds and understanding hearts. The enduring purpose of Felician University is to promote a love for learning, a desire for God, self knowledge, service to others, and respect for all creation.
SCHOOL OF ARTS AND SCIENCES MISSION
The School of Arts and Sciences is committed to promoting the University's Franciscan-Felician mission by providing an environment that fosters the intellectual, emotional, and spiritual development of our students. The Liberal Arts curriculum challenges students to explore creative ways of thinking within a broad scope of study that integrates intellectual traditions with essential values. Our diverse programs encourage students to become lifelong learners and compassionate contributors to the well-being of others throughout their lives.
DEPARTMENT OF ART MISSION
The Art Program at Felician College produces artists with the skills, knowledge, and critical sensibility to effectively communicate ideas through individual forms of expression. Offering a variety of courses in Fine Art, Graphic Design, and Photography and New Media, the Department's objective is to emphasize the teaching of technique in concert with the critical study of different historical forms of art production, providing a life-long reference of cultural understanding.

Through a rigorous and dynamic curriculum, graduates of the Art Program will be able to implement a variety of creative skills and techniques, as well as produce a range of forms and styles; critique works of art based on their survey knowledge of major historical examples and schools of thought; recognize trends in contemporary cultural thinking; understand the importance of the arts in society; assess their personal strengths and interests; and create and present work suitable for exhibition and publication. Ultimately, graduates will be able to integrate and synthesize their skills, knowledge, and experience into a powerful career strategy.
---
ART-260-A FILM VIDEO ART
3 credits, undergraduate, traditional
Spring 2019
W 5:45-8:15, Martin 301

INSTRUCTOR INFORMATION
Michael J. Nyklewicz, M.A.
Associate Professor
Email: nyklewiczm@felician.edu
201-335-1437


Updated 01/16/19

"All technical refinements depress me. The perfection of photography, the big screens, the stereo sound, all of it makes possible a servile reproduction of nature; and that reproduction bores me. ... The artist's personality interests me more than the copying of an object."

- Jean Renoir, 1959

"When you have a poor image, there's lots more room to dream."

- David Lynch, 2005
---
COURSE DESCRIPTION
From Super-8 film to digital video, this class explores film and video as fine art. Students will experiment with different media, producing short pieces that will be edited and published using software such as Final Cut Pro and DVD Studio Pro.
COURSE OBJECTIVES
This course satifies GECC Theme Area III - Communication & Expression:
Communicate creatively and aesthetically through writing, speaking, and/or performance
Demonstrate college-level English language competence through reading, writing, and speaking with clarity, coherence, and persuasion
Demonstrate the ability to communicate orally in social and professional situations.
In this course, students will:
understand the functions of video cameras (#1)

experiment with the unique ability of video to capture time and motion (#1)
learn non-destructive editing techniques through Apple's Final Cut Pro Studio software (#1)
create several video art works (#1)
critique film/video on both a personal level and from within established criticism (#2)
assess their creative process and interpretation of assignments (#3).

---
RECOMMENDED TEXT
Michael Rush, New Media in Art, Thames & Hudson, 2005 (approx. $20.00, available in the Bookstore)
REQUIRED & OPTIONAL MATERIALS
Notebook / Sketchbook
Headphones / Ear buds
---
COURSE CONTENT
Week One (01/16)
Introduction
Week Two (01/23)
Introduction to Final Cut Pro – presentation on importing video/audio files and basic video editing

PROJECT: Found Footage

Parameters

Choose 1 sound and 1 commercial (distributed in class)
Re-edit commericial to sound to create new meaning
Be creative

DUE: TBA

Week Three (01/30)
Presentation on the rhythm of editing, replacing existing audio tracks with new audio, adding credits and titles, and exporting video

Reading: Brenneis, Chapters 7 & 8
Reading: Rush, Conceptual Video, pp. 93-107
Reading: Rush, Duchamp to Cage to Fluxus, pp. 21-27
Week Four (02/06)

Critique
Screening:

Blue, Green Pink Caviar

PROJECT: See What I Have Done

Parameters

Record yourself reading this passage
Create a video of using colors and transitions:

The colors/transitions should represent your idea of what's happening
Use different colors to represent the different characters

Use audio sources created in Garageband
Use at least 3 transitions

DUE: TBA
Week Five (02/13)
Introduction to GarageBand – presentation on using color mattes, video/audio layering, and transitions

Reading: Rush, Exploring Identities, pp. 148-165

Week Six (02/20)

PROJECT: Screen Test

Parameters

Create three 2-1/2-minute screen tests of yourself
Black-and-white
Silent
Reduce speed by approx. 80% to equal 3 minute running time
No cuts or transitions (all in-camera)

DUE: TBA

Week Seven (02/27)
Presentation on video camera functions, black-and-white conversion, stripping audio, and frame-rate adjustments
Week Eight (03/06)
Spring Break - no class
Week Nine (03/13)

PROJECT: A body in motion tends to stay in motion (triangle piece #1)

Parameters

Create a short experimental video about motion using the studio triangle
Length, as appropriate; does not have to be a continuous shot
Color or black-and-white, as appropriate or necessary
Sound, as appropriate or necessary
Transitions, as appropriate or necessary

DUE: TBA

PROJECT: A body at rest tends to stay at rest (triangle piece #2)

Parameters

Create a short experimental video using the studio triangle
Length, as appropriate; does not have to be a continuous shot
Color or black-and-white, as appropriate or necessary
Sound, as appropriate or necessary
Transitions, as appropriate or necessary

DUE: TBA

Week Ten (03/20)
Midterm
A practical exam that asks you to recreate a video sequence from raw footage and audio.

Midterm Review Topics

Arrow
Blade
Retime Editor (changing speed, reversing clips)
Clip Opacity
Audio (adding, deleting, detaching)
Colors
Transitions



Screening:

La Jettee

Reading: Rush, Personal Narratives, pp. 107-113
Response Paper #1

PROJECT: Confinement

Parameters

Create an experimental video about confinement
Color or black-and-white, as appropriate or necessary
Sound, as appropriate or necessary

DUE: TBA

Week Eleven (03/27)
Presentation on compositing video, working with multiple video channels, and animation

Critique
Screening:

Dans ma peau

Reading: Rush, Exploring the Political, pp. 125-138
Response Paper #2

Week Twelve (04/03)

Reading: Rush, Digital Art, pp. 168-171, 192-201
Week Thirteen (04/10)

Critique
Screening: Amer
Reading: Rush, Exploring the Lyrical, pp. 138-148
Reading: When Do We "Get It"?

Response Paper #3

Week Fourteen (04/17)

Week Fifteen (04/24)
Week Sixteen (05/01)

Critique
Open studio & lab

Week Seventeen (05/08)
Final

No work accepted after 05/08

PROJECT: For every action there is an equal and opposite reaction

Parameters

Create a short experimental video about action and reaction
Color or black-and-white, as appropriate or necessary
Sound, as appropriate or necessary

DUE: TBA

PROJECT: Monotony

Parameters

Create a short experimental video about repetition
Color or black-and-white, as appropriate or necessary
Sound, as appropriate or necessary

DUE: TBA

PROJECT: Force equals mass times acceleration

Parameters

Create a short experimental video about force
Color or black-and-white, as appropriate or necessary
Sound, as appropriate or necessary

DUE: TBA
---
GRADING RUBRICS
PROJECTS

10 pts.
6 pts.

2 pts.

Content

Sequence elements are thoughtfully chosen and appropriate for the project.

Sequence elements are appropriate, but do not complement the project

.

Sequence elements are not appropriate for the project

.
Structure

Sequence is well organized with careful editing.

Sequence is organized

, but editing is careless.

Sequence is poorly organized and edited

.
Originality

Interpretation of the project parameters shows independent thought and creative ideas.
Intepretation of the project

parameters

shows some creativity, but lacks in realization of ideas.
Interpretation of the project

parameters

is obvious.
Ingenuity
Appropriate use of the features of Final Cut effectively communicates ideas.

Somewhat appropriate use of the features of Final Cut, but lacks relevance to ideas

.

Indiscriminate use of the features of Final Cut.
GRADING POLICIES
Projects:

60%

Responses:

10%

Midterm:

25%
Artist's Statement: 5%
Total percentage is 100, which is translated into a letter grade using the standards published in the University Catalog (see below); there will be no grading curve.
Felician University operates on the 4.00 grading system and determines the academic standing of students according to the following scale:
| | | | |
| --- | --- | --- | --- |
| Grade | Description | Numerical Equivalent | Quality Points |
| A | Outstanding | 100-95 | 4.000 |
| A- | Excellent | 94-90 | 3.670 |
| B+ | Very Good | 89-87 | 3.333 |
| B | Good | 86-83 | 3.000 |
| B- | Above Average | 82-80 | 2.670 |
| C+ | Average | 79-77 | 2.333 |
| C | Acceptable | 76-70 | 2.000 |
| D | Poor | 69-65 | 1.000 |
| F | Failure | 64 or below | 0.000 |
| FA | Failure due to non-attendance | 64 or below | 0.000 |
---
COURSE POLICIES
All communication of course-related matters will be done only via Felician University email addresses.
Please expect to spend time outside of class working on your projects.
Students are expected to attend all classes. Should you need to miss class for an emergency, please contact me by email, preferably prior to class if possible, but within 36 hours after class. In the event of a missed exam, please also provide documentation prior to taking the make-up exam. Two (2) unexcused absences will lower your final grade by three (3) points; each additional unexcused absence will lower your final grade by three (3) points.
Please see the Student Handbook for the University's policies on plagiarism and acceptable conduct.
All written work will be checked through Turnitin, with revisions allowed based on the Similarity Report.
Please refrain from personal use of computers and electronic devices during class.
---
NOTE
University Wide Policies can be found in the College Catalog.
By enrolling in this course, you agree to abide by the Felician University Honor Code, which states you pledge your honor that you will neither give nor receive inappropriate aid on all exams, quizzes, and similar work assigned during the semester.
Extenuating circumstances may necessitate a change in the syllabus or schedule. Every effort will be made to provide adequate notice of such change.