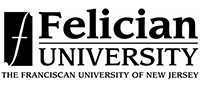 FELICIAN UNIVERSITY MISSION
Felician University is an independent co-educational Catholic/Franciscan University founded and sponsored by the Felician Sisters to educate a diverse population of students within the framework of a liberal arts tradition. Its mission is to provide a full complement of learning experiences, reinforced with strong academic and student development programs designed to bring students to their highest potential and prepare them to meet the challenges of the new century with informed minds and understanding hearts. The enduring purpose of Felician University is to promote a love for learning, a desire for God, self knowledge, service to others, and respect for all creation.
SCHOOL OF ARTS AND SCIENCES MISSION
The School of Arts and Sciences is committed to promoting the University's Franciscan-Felician mission by providing an environment that fosters the intellectual, emotional, and spiritual development of our students. The Liberal Arts curriculum challenges students to explore creative ways of thinking within a broad scope of study that integrates intellectual traditions with essential values. Our diverse programs encourage students to become lifelong learners and compassionate contributors to the well-being of others throughout their lives.
DEPARTMENT OF ART MISSION
The Art Program at Felician Universtiy produces artists with the skills, knowledge, and critical sensibility to effectively communicate ideas through individual forms of expression. Offering a variety of courses in Fine Art, Graphic Design, and Photography and New Media, the Department's objective is to emphasize the teaching of technique in concert with the critical study of different historical forms of art production, providing a life-long reference of cultural understanding.

Through a rigorous and dynamic curriculum, graduates of the Art Program will be able to implement a variety of creative skills and techniques, as well as produce a range of forms and styles; critique works of art based on their survey knowledge of major historical examples and schools of thought; recognize trends in contemporary cultural thinking; understand the importance of the arts in society; assess their personal strengths and interests; and create and present work suitable for exhibition and publication. Ultimately, graduates will be able to integrate and synthesize their skills, knowledge, and experience into a powerful career strategy.
---
ART-249-SA
INTERNATIONAL VISUAL STUDIES: BOOK DESIGN
3 credits, undergraduate, traditional
Spring 2018
TBA, Martin 301

INSTRUCTOR INFORMATION
Michael J. Nyklewicz, M.A.
Associate Professor
Email: nyklewiczm@felician.edu
---
COURSE DESCRIPTION
This Study Abroad course introduces students to the design and production of the photographic travel book. While living and studying abroad, students detail their experiences through photographs, utilizing readily accessible web-based software to design and publish their books. Prerequisites: none.
COURSE OBJECTIVES
In this course, students will:
create a book about their study abroad experiences
evaluate, choose, and sequence the images best suited for their book
understand the principles of design, layout, and production through the use of book-publishing software
understand how to properly plan, compose, and critique a photograph
compare the culture of another country with their own.
---
REQUIRED READINGS
Excerpts from The Daybooks of Edward Weston, Aperture, 1990 (out of print)
Online articles
REQUIRED MATERIAL
Digital camera

Notebook computer
Notebook / sketchbook / journal
---
COURSE CONTENT - Spring
Week One (01/19)
Overview & Introduction

Week Two (01/26)
Camera Functions and Techniques

Week Three (02/02)
Capturing Time & Place

Week Four (02/09)
Location Assignment I

Field Trip: Eataly
Reading: excerpts from Archive Style: Photographs and Illustrations for U.S. Surveys, 1850-1890 by Robin Kelsey

Week Five (02/16)
Book Design: Image Selection & Editing

Week Six (02/23)
Book Design: Size & Shape

Reading: excerpts from The Daybooks of Edward Weston

Week Seven (03/02)
Book Design: Type Considerations

Week Eight (03/09)
Spring Break - no class

Week Nine (03/16)
Book Design: Color Themes

Reading: excerpts from The Coral Sea by Patti Smith

Week Ten (03/23)
Midterm
Book Design: Layout

Week Eleven (03/30)
Easter Break - no class

Week Twelve (04/06)
Location Assignment II

Week Thirteen (04/13)
Book Design: Software I

Reading: excerpts from Keep Moving by Hamish Fulton

Week Fourteen (04/20)
Book Design: Software II

Week Fifteen (04/27)
Book Design Software III

Week Sixteen (05/04)
Book Design Software IV

Week Seventeen (05/11)
Spring Book Design Project due
Pre-Departure Prep
Checklist of essentials – what to pack and what not to pack.
COURSE CONTENT - Summer
Departure - Newark
05/23/18

Class One
Location Shoot: Boboli Gardens

Class Two
Location Shoot: Piazzale Michelangelo; San Lorenzo Market
Class Three
Location Shoot: Alinari; Piazza della Repubblica

Class Four
Location Shoot: Santa Croce; Sant'Ambrogio Market

Class Five
Location Shoot: Casa Buonarotti; Fiesole
Class Six
Location Shoot: Piazza della Signoria; Palazzo Vecchio

Class Seven
Location Shoot: Uffizi

Class Eight
Location Shoot: Academia
Class Nine
Location Shoot: Duomo

Class Ten
Location Shoot: Bargello; Strozzi

Class Eleven
Location Shoot: Palazzo Pitti
Class Twelve
Location Shoot: Rome

Class Thirteen
Location Shoot: Pisa

Class Fourteen
Location Shoot: Lucca

Class Fifteen
Presentation

Departure - Firenze
06/21/16
---
GRADING RUBRICS
Book Design Projects - Semester / Final
5 pts. / 10 pts.
3 pts. / 8 pts.
1 pt. / 6 pts.
Skills & Techniques

Book design exhibits a mastery of skills and techniques appropriate to the medium.
Book design exhibits average skills and techniques appropriate to medium.
Book design exhibits basic skills and techniques appropriate to the medium.
Composition & Presentation


Book design

is thoughtfully and creatively composed; presentation adds to its effectiveness.

Book design

is thoughtfully composed, but lacks creativity; presentation somewhat adds to its effectiveness.

Book design

is carelessly composed; presentation is indiscriminate.

Originality

Interpretation of the project shows independent thought and creative ideas.
Intepretation of the project shows some creativity, but lacks in realization of ideas.
Interpretation of the project is obvious.
Communication

Book design

effectively communicates ideas in relation to the designer's intent.

Book design

communicates ideas in relation to the

designer's

intent.

Book design

somewhat communicates ideas in relation to the

designer's

intent.
GRADING POLICIES
Spring Book Design Project:

20%

Summer Book Design Project:

40%

Museum Assignments:

10%

Attendance:

30%
Total percentage is 100, which is translated into a letter grade using the standards published in the Felician University Catalog. There will be no grading "curve."
Felician University operates on the 4.00 grading system and determines the academic standing of students according to the following scale:
| | | | |
| --- | --- | --- | --- |
| Grade | Description | Numerical Equivalent | Quality Points |
| A | Outstanding | 100-95 | 4.000 |
| A- | Excellent | 94-90 | 3.670 |
| B+ | Very Good | 89-87 | 3.333 |
| B | Good | 86-83 | 3.000 |
| B- | Above Average | 82-80 | 2.670 |
| C+ | Average | 79-77 | 2.333 |
| C | Acceptable | 76-70 | 2.000 |
| D | Poor | 69-65 | 1.000 |
| F | Failure | 64 or below | 0.000 |
| FA | Failure due to non-attendance | 64 or below | 0.000 |
---
COURSE POLICIES

NOTE
University Wide Policies can be found in the University Catalog.
By enrolling in this course, you agree to abide by the Felician University Honor Code, which states you pledge your honor that you will neither give nor receive inappropriate aid on all exams, quizzes, and similar work assigned during the semester.
Extenuating circumstances may necessitate a change in the syllabus or schedule. Every effort will be made to provide adequate notice of such changes.