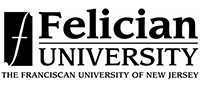 UNIVERSITY MISSION
Felician University is an independent co-educational Catholic/Franciscan University founded and sponsored by the Felician Sisters to educate a diverse population of students within the framework of a liberal arts tradition. Its mission is to provide a full complement of learning experiences, reinforced with strong academic and student development programs designed to bring students to their highest potential and prepare them to meet the challenges of the new century with informed minds and understanding hearts. The enduring purpose of Felician University is to promote a love for learning, a desire for God, self knowledge, service to others, and respect for all creation.
SCHOOL OF ARTS AND SCIENCES MISSION
The School of Arts and Sciences is committed to promoting the University's Franciscan-Felician mission by providing an environment that fosters the intellectual, emotional, and spiritual development of our students. The Liberal Arts curriculum challenges students to explore creative ways of thinking within a broad scope of study that integrates intellectual traditions with essential values. Our diverse programs encourage students to become lifelong learners and compassionate contributors to the well-being of others throughout their lives.
DEPARTMENT OF ART MISSION
The Art Program at Felician Universtiy produces artists with the skills, knowledge, and critical sensibility to effectively communicate ideas through individual forms of expression. Offering a variety of courses in Fine Art, Graphic Design, and Photography and New Media, the Department's objective is to emphasize the teaching of technique in concert with the critical study of different historical forms of art production, providing a life-long reference of cultural understanding.

Through a rigorous and dynamic curriculum, graduates of the Art Program will be able to implement a variety of creative skills and techniques, as well as produce a range of forms and styles; critique works of art based on their survey knowledge of major historical examples and schools of thought; recognize trends in contemporary cultural thinking; understand the importance of the arts in society; assess their personal strengths and interests; and create and present work suitable for exhibition and publication. Ultimately, graduates will be able to integrate and synthesize their skills, knowledge, and experience into a powerful career strategy.
---
ART-245-R INTRODUCTION TO WEB DESIGN
3 credits, undergraduate, traditional
Fall 2018
F 10:00-12:30, Martin 301

INSTRUCTOR INFORMATION
Michael J. Nyklewicz, M.A.
Associate Professor
Email: nyklewiczm@felician.edu
201-335-1437

Office Hours

Updated 08/31/18
---
COURSE DESCRIPTION
This course, without being strictly technical, introduces students to designing websites that effectively communicate their ideas. Rather, the class will combine the technical aspects of website design with the development of a personal aesthetic. The course begins with an examination of Hypertext Markup Language (HTML), the basis of current web design. As the semester progresses, different techniques for manipulating HTML will be introduced, each increasing in difficulty and complexity. Students gain the practical knowledge needed to be proficient website designers through the synergistic techniques used to teach this class as well as define unique visual styles that will make them outstanding website designers.
COURSE OBJECTIVES
This course satifies GECC Theme Area III - Communication & Expression:
Communicate creatively and aesthetically through writing, speaking, and/or performance
Demonstrate college-level English language competence through reading, writing, and speaking with clarity, coherence, and persuasion
Demonstrate the ability to communicate orally in social and professional situations
In this course, students will:
Learn the history of the computer and the internet (#1)
Analyze the issues brought about by the advent of the computer and internet (#1)
Identify the basic functions of HTML (#1)
Understand how to properly design a website (#1)
Analyze a specific period in art (#2)
Evaluate website design in terms of communication and aesthetics (#3)
Assess their creative process and interpretation of assignments (#3).
---
RECOMMENDED TEXT
Tom Negrino and Dori Smith, Dreamweaver CS6 for Windows & Macintosh, Peachpit Press, 2012 (approx. $30.00, available in the Bookstore)
REQUIRED MATERIALS
---
COURSE CONTENT
INTRODUCTION
Week One (08/31)
A Short History of the Computer, a Short History of the Internet
HTML
Presentation/discussion on the origins of the computer and internet, different aspects of web design, registering domain names, and finding a webhost


Week Two (09/07)
Images & Photoshop
Presentation/discussion on the various image formats supported on the web – introduction to Photoshop for resizing images and determining web-safe colors

Week Three (09/14)
Site Management
Presentation/discussion on creating a site map/plan, making a local site, and best practices for site management – introduction to Dreamweaver and HTML

Dreamweaver
Site Management

Week Four (09/21)
Links
Presentation/discussion on creating a basic web page, best practices for links, and linking between pages, folders, and other websites

Week Five (09/28)
Images & Rollovers
Presentation/discussion on creating rollovers using images and text

Week Six (10/05)
Tables
Presentation/discussion on creating and using tables for placement of web objects

Week Seven (10/12)
CSS
Presentation/discussion on creating and using Cascading Style Sheets for placement of web objects

Week Eight (10/19)
Midterm Review

Practice: Midterm
Outlines/Proposals for Personal Website due

Week Nine (10/26)
MIDTERM
In-Class Practical Exam #1

Week Ten (11/02)
Frames
Presentation/discussion on creating and using frames for simultaneous display of more than one webpage
Week Eleven (11/09)
Open Studio
Week Twelve (11/16)
Plug-Ins & Embedded Video
Presentation/discussion on using plug-ins to embed audio and video

Week Thirteen (11/23)
Thanksgiving break - no class


Week Fourteen (11/30)
Animation & Flash
Presentation/discussion on creating animated elements in Photoshop and animated websites in Flash

Week Fifteen (12/07)
Delivery Options
Presentation/discussion on considerations for display on computers and mobile devices

Week Sixteen (12/14)
Student Presentations
Presentations of student work and their creative process

No work accepted after 12/14

---
GRADING RUBRICS
WEB PAGE

4 pts. (2 pts. Literature pages)

0 pts.

0 pts.

Functionality

Website is uploaded online and fully functional, with no broken links, missing files, etc.

No points given otherwise.

No points given otherwise.

2 pts. (1 pt. Literature pages)

1 pt. (0.5 pt. Literature pages)

.5 pt. (0.25 pt. Literature pages)

Design

All aspects of design are appropriate for the subject.
Design is somewhat appropriate for the subject.
Design is not appropriate for the subject.
Creativity

Interpretation of the project shows independent thought and creative ideas.
Intepretation of the project shows some creativity, but lacks in realization of ideas.
Interpretation of the project is obvious.
Ingenuity
Appropriate use of the features of Dreamweaver effectively communicates ideas.

Somewhat appropriate use of the features of Dreamweaver, but lacks relevance to ideas

.

Indiscriminate use of the features of Dreamweaver.
GRADING POLICIES
Grades will be based on the criteria found in the GRADING RUBRICS.
Midterm Exam: 20%

Literature I:

10%

Literature II:

10%

Literature III:

10%

Personal Website

: 50%
Total percentage is 100, which is translated into a letter grade using the standards published in the University Catalog (see below); there will be no grading curve.
Felician University operates on the 4.00 grading system and determines the academic standing of students according to the following scale:
| | | | |
| --- | --- | --- | --- |
| Grade | Description | Numerical Equivalent | Quality Points |
| A | Outstanding | 95-100 | 4.000 |
| A- | Excellent | 90-94 | 3.670 |
| B+ | Very Good | 87-89 | 3.333 |
| B | Good | 83-86 | 3.000 |
| B- | Above Average | 80-82 | 2.670 |
| C+ | Average | 77-79 | 2.333 |
| C | Acceptable | 70-76 | 2.000 |
| D | Poor | 65-69 | 1.000 |
| F | Failure | 64 or below | 0.000 |
| FA | Failure due to non-attendance | 64 or below | 0.000 |
---
COURSE POLICIES
All communication of course-related matters will be done only via Felician University email addresses.
Please expect to spend time outside of class working on your projects.
Students are expected to attend all classes. Should you need to miss class for an emergency, please contact me by email, preferably prior to class if possible, but within 36 hours after class. In the event of a missed exam, please also provide documentation prior to taking the make-up exam. Two (2) unexcused absences will lower your final grade by three (3) points; each additional unexcused absence will lower your final grade by three (3) points.
Please see the Student Handbook for the College's policies on plagiarism and acceptable conduct.
All written work will be checked through Turnitin, with revisions allowed based on the Similarity Report.
Please refrain from personal use of computers and electronic devices during class.
---
NOTE
University Wide Policies can be found in the University Catalog.
By enrolling in this course, you agree to abide by the Felician University Honor Code, which states you pledge your honor that you will neither give nor receive inappropriate aid on all exams, quizzes, and similar work assigned during the semester.
Extenuating circumstances may necessitate a change in the syllabus or schedule. Every effort will be made to provide adequate notice of such changes.